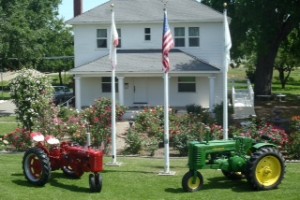 Welcome to the Rio Linda/Elverta Historical Society,
a 501(c)3 nonprofit organization in the heart of Rio Linda, California.
We are located at the Historic Dry Creek Ranch House & Museum on 180 acres of beautiful land at:
6852 Dry Creek Road, Rio Linda, CA 95673.
The Rio Linda/Elverta Historical Society was formed in February 1991 by a group of individuals dedicated to preserving, protecting, promoting and restoring the unique history of Rio Linda and Elverta.
Our team of dedicated members and volunteers work towards restoring the historic Dry Creek Ranch House and our community's historical artifacts. The Society works with other local organizations to enhance the beautiful and unique characteristics of the our rural-residential community.
Membership: We invite you to tour our website and learn more about us. We hope you will join our growing group of members who help us make new history every day!