2017 Farm and Tractor Days Promotion Flyer (3)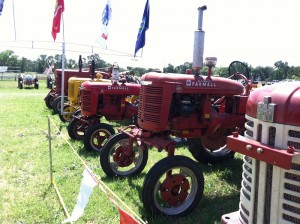 NEWS FLASH-Click above link: 23rd Annual Farm & Tractor Days! Join us on May 19 & 20, 2017
*Do you have a tractor to show? Call Deacon at (209) 810-5913, Branch 13
*Do you have something unique to sell? Get a Vendor Booth for only $20.
Call Jeanne at (916) 991-5212
Address: Dry Creek Farm House, 6852 Dry Creek Road, Rio Linda, CA 9-4 both days.
Welcome to the Rio Linda/Elverta Historical Society!
We are located at the Historic Dry Creek Ranch House & Museum on 145 acres of beautiful land at: 6852 Dry Creek Road, Rio Linda, CA 95673.
The Rio Linda/Elverta Historical Society was formed in February 1991 by a small group of individuals dedicated to preserving, protecting, promoting and restoring the unique history and heritage of Rio Linda and Elverta.
Our team of wonderful members and volunteers work towards restoring the historic Dry Creek Ranch House, maintaining the beautiful, rural property and preserving our community's historical artifacts. Plus, there are year around events, socials and interesting projects and programs to enjoy.
The Society often teams up with other local organizations to enhance the unique characteristics of the our rural-residential community.
How can I become involved? Join us by becoming a Member! We invite you to tour our website and learn more about us and the benefits of becoming a RLE Historical Society Member. We hope you will join our growing group of friends who help us make new history every day!
We are a 501(c)3 nonprofit organization in the heart of Rio Linda, California.
https://youtu.be/ibdXLMtuzhg